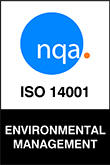 GLOBAL CERTIFICATION BODY
What is ISO 14001?
ISO 14001 is the international standard for environmental management systems (EMS) and the most widely used EMS in the world, with over 360,000 ISO 14001 certificates issued globally.
ISO 14001 is the principal management system standard which specifies the requirements for the formulation and maintenance of an EMS. This helps to control your environmental aspects, reduce impacts and ensure legal compliance. Studies show that as much as 70% of total office waste is recyclable; however, only 7.5% reaches the recycling facility.
ISO 14001 is accompanied by ISO 14004 Environmental Management Systems – General Guidelines on principles, systems and support techniques. The standard covers issues such as the establishment, implementation, maintenance and improvement of an EMS.
Nearly any business can benefit from achieving certification to ISO 14001 standards. The certification is broad enough to offer significant benefits to organizations in any industry or sector, while still providing a specific framework for implementing relevant sustainable practices.
ISO 14001 has seen a 5.5% increase in worldwide certificates in 2020, showing the growth and importance of UKAS accredited certification in recent times.
Want to know more?
Contact Us
OSL Gains NQA 14001 Accreditation
We are delighted to announce that our company, OSL, has gained NQA 14001 Accreditation, a certification that recognizes our commitment to environmental management and sustainable practices.
The NQA 14001 Accreditation is an internationally recognized standard for Environmental Management Systems (EMS), which requires organizations to demonstrate their ability to identify and control the environmental impact of their activities, products, and services. Achieving this accreditation shows that OSL has implemented a robust EMS that meets the rigorous standards set by NQA, and that we are committed to minimizing our impact on the environment.
At OSL, we take our responsibility to the environment seriously, and this accreditation reflects our dedication to sustainable business practices. We believe that it is our duty to ensure that our operations are as environmentally friendly as possible and that we do our part to preserve the planet for future generations.
The NQA 14001 Accreditation is the latest in a series of achievements that demonstrate our commitment to excellence, and we are proud to join the many other organizations that have already earned this prestigious certification.
We would like to thank our employees for their hard work and dedication, without which this achievement would not have been possible. We would also like to thank our customers and partners for their continued support and for recognizing the importance of sustainable business practices.
Moving forward, we will continue to build on this achievement and remain committed to reducing our impact on the environment. We hope that this news will give our stakeholders confidence in our commitment to environmental management and sustainability.
Teamwork
Our people are a core part of our success. As we have a large team at the OSL group it is crucial that we can work together to help the business achieve its objective.
Integrity
We rely on the integrity of our team to be trusted to perform in their role to the best of their ability.
Safety
Safety is of paramount importance to our group. We provide a safe working environment, yet we rely on every team member to perform their duties in a safe manner.
Passion
We are very ambitious and passionate about providing the best product and service to achieve our growth objectives. We look for ambitious, passionate people to join the team to help us to drive the company forward.
Quality
Quality is important across the entire business, whether that is quality of product or quality of procedure. We are looking for people to join us and to provide high quality outputs to deliver the best product and service.