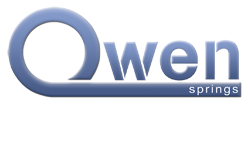 Owen Springs
Owen Springs are the experts in the manufacturing and supply of leaf springs and leaf spring steel products. In Rotherham, Owen Springs has been servicing customers from OE vehicle manufacturers to restoration enthusiasts and in-between for over 30 years.
Owen Springs service their customers from a purpose-built factory where they hold stock of a vast range of leaf spring accessories, including U bolts, pins, and bushes. The team's expert manufacturing knowledge means that Owen Springs can provide a comprehensive range of replacement springs, either off the shelf or custom manufactured to order, for delivery nationwide. The team can also repair and modify existing springs using their expertise and product knowledge.
Our team has gained years of knowledge, experience, expertise, and technical ability within every area of the spring and suspension industry. Accreditation to ISO 9001, members of the Institute of Spring Technology, and very close long-term partnerships with many of the leading automotive industry suppliers ensure that Owen Springs Ltd repeatedly and consistently delivers on our main objective, customer satisfaction.
As a desire to get closer to our customers, we have opened two branches in Tyne and Wear and Ellesmere Port which both hold a wide range of stock and accessories and is successfully servicing customers.
Visit Site
Teamwork
Our people are a core part of our success. As we have a large team at the OSL group it is crucial that we can work together to help the business achieve its objective.
Integrity
We rely on the integrity of our team to be trusted to perform in their role to the best of their ability.
Safety
Safety is of paramount importance to our group. We provide a safe working environment, yet we rely on every team member to perform their duties in a safe manner.
Passion
We are very ambitious and passionate about providing the best product and service to achieve our growth objectives. We look for ambitious, passionate people to join the team to help us to drive the company forward.
Quality
Quality is important across the entire business, whether that is quality of product or quality of procedure. We are looking for people to join us and to provide high quality outputs to deliver the best product and service.